ECO-friendly campsite in Haut Jura
Campsite with small farm in the Haut Jura Natural Park

A change of scenery at the foot of the Monts Jura.
Our animals

Domestic sheep and mouflons
Soay and Cameroon mouflons
Sheep are used for eco-grazing.
This breed is a cousin of the wild sheep, it was introduced to the continent to graze pastures, parks and green areas.
At the campsite, they pull weeds, mow the law and entertain our guests.
Chickens
We collect fresh eggs every day
The leader of the group always struts around and lounges in the dust, while the quieter one spends a long time in the henhouse…
No rooster on-site, for everyone's rest!
Rabbits
Watch them jumping, playing, cuddling… You'll find it hard to take your eyes off our long-eared friends.
The cat
Fleur is an angora cross maine coon. She is sweet, sociable, curious…everybody falls in love with it!!
Guinea Pigs
With their very own hairstyle, our little furry friends are a bit talkative, very playful but shy as well ... no doubt, you will fall for them!
Le bichon Malté et le bouvier Bernois
Maltese dog and Bernese Mountain Dog.
Fastoche has been a family member for 11 years, he likes cuddling in our lap!
Rajah has been looking after the animals since 2020.
The fauna of the campsite
Numerous species of birds, squirrels, bats ...
Keep one's eyes open, a robin is in the nestbox and a squirrel is trying to reach the crispy pine cone!
Some campers have even seen the fox and the golden eagles
The campsite ecological approaches

Everyday practices that we try to change or improve. with small or no constraints.
We prefer short circuits, local and regional products and French manufacturers.
Sustainable campsite practices
The mowing is made by Soay sheeps.
We make the compost ourselves for the flower boxes, 2m3 per year.
There is a waste sorting area and a battery recycling collection point.
The solar water heating system reduce the emission of 2.5 tons of CO2.
We use cleaning products labeled "green".
100% LED lighting.
The alleys of the campsite are not lit at night, so you'll be able to see the beauty of the stars and the nocturnal wildlife.
A dry toilet at the pool.
The pool is heated with a heat pump.
Electric vehicles charging station (extra charged).
Our commitments & Labels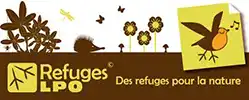 LPO refuge
In 2019, we have signed the LPO refuge agreement (the largest environmental NGO in France), >with the commitment of preserving nature and improving biodiversity on our campsite.

Le Valserine Solidaire programme
In 2019, we have created Le Valserine Solidarity program (PLVS01) to give the opportunity to children's aid organisations, families with financial distress, disaster victims, refugees.. to come and stay in the mountains and carry out sports and leisure activities.

Label "Valeurs Parc Naturel Régional du Haut-Jura
In 2020, we were awarded the "Haut-Jura Regional Nature Park Values" label. This label meets a set of specifications covering 3 main themes:
Preservation of the environment - Human development - Local economy